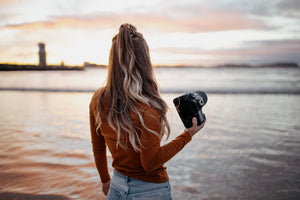 ---
I was gearing up for my biggest year of Wedding Photography yet, then found myself twiddling my thumbs in 2020 as the event industry collapsed.
I suddenly had an itch to create, and bring to life the many ideas I'd had over my 10+ year Photography career of things that would boost my confidence and help with my creative flow.
Disorganization had crippled my ability to confidently and creatively direct a session more times than I'd like. So I knew what I needed to free my mind to produce work that I'm really proud of!
I also had a deep yearning to be closer to creative types as we were more disconnected than ever, and my creative outlet was shut down!
Photography was already quite isolating even before lockdowns. Most people find their friends at work, but as a Tog you work with different people all the time - it's not easy to really connect. But since starting Tog Lady Loot I have gained so many friends, and filled my cup many times over!
I want your Tog Lady Loot gear to feel like your bestie coming along to a shoot with you. She's got your back. She's thinking ahead for you, and just making you feel like 'You got this!'.
Remember to create your best work, you first need to put yourself in the picture!
- Grace Mac, Founder